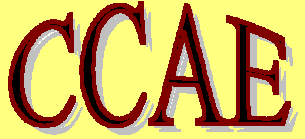 Meeting 21st Century Challenges!
California Council for Adult Education
1006 Fourth Street, Suite 260
(916) 444-3323
Fax (916) 557-1152
California Council for Adult Education
CCAE is people working together for the advancement and continued professionalization of adult education in California. CCAE is unique among education organizations in it's breadth of membership. Our members are the practitioners of adult education: teachers, administrators, counselors, classified support staff, as well as students. Institutional subscriptions enable school districts, adult schools and small businesses to participate in our activities. A foundation has been established for the corporate and industry involvement and partnerships. CCAE is a professional organization affiliated with the American Association for Adult and Continuing Education.
CCAE membership provides:

· Workshops—surveys—Conferences
· Legislative Representation
· Job information
· Professional growth
· Networking with other Adult Educators
· The "Communicator" News/Publications
HISTORY OF THE CALIFORNIA COUNCIL FOR ADULT EDUCATION
1942-1996
"54 Years of Excellence"
By Virginia Donnellan
The California Council for Adult Education was founded in the early Forties by George C. Mann, Chief of the Bureau of Adult Education in the State Department of Education. Several other educators have been recognized as contributing to the early organization of CCAE. Leo James, assistant to Dr.Mann, worked on the goals and purposes of the organization. E.Manfred Evans, from Los Angeles, continued the work for Mann when the Chief of the Bureau was called into service for the Navy during World War 11, and Guy Garrard and Louise Heyl, who were both leaders in adult education in the Forties and later became CCAE presidents, were instrumental in organizing and promoting CCAE around the state. CCAE, which originally was called the California Association for Adult Education, had 250 members by 1944, and now has approximately 2000 members. Members of CCAE in the Forties included administrators, teachers, University of California Extension personnel, key leaders in adult education and other interested individuals. Today CCAE includes administrators, teachers, classified staff, institutional members and interested individuals. Members are from adult schools, community colleges, correctional institutions and many other public and private agencies which are dedicated to the promotion of adult education in this state. CCAE has always focused on promoting professional standards for adult educators and influencing legislation that protects and promotes adult education in California. The original sections included Northern, North Coast, Bay, Central and Southern. There was a Central Coast Section in the Fifties, but by 1969 the sections were identified as Bay, Central, Northern, Southern and South Coast. The sixth section to be added in 1987 was Los Angeles Metropolitan. George C.Mann was the Executive Secretary for CCAE from 1942-1956. In 1956 he retired from his position as Chief of the Bureau of Adult Education and Stanley Sworder followed him in both positions, as Executive Secretary to CCAE and Chief of the Bureau. David MacKaye was elected as the first president of CCAE in 1944 and served for two years. He was followed by Louise Heyl, who served for another two years. Each president after that served a one year term. Early in the history of the board, the president moved up into their position from Vice-President or President-Elect. Today the position of president is a four year commitment. The person holds the positions of Vice-President, President-Elect, President and Past President. Retyped by Peter MacAnulty for John Potts July 1, 1996
One of CCAE 's major task is to keep a vigilant watch on legislation that affects 
the adult education community in California. By communicating with, and keeping our 
Assemblyman and Senators informed of adult education needs, we can foster better legislation 
for adult education.
The Grossmont Chapter Board of Directors for 1996–1997
I would like to take this time to thank all of the 1995-1996 
board members for their fine efforts and hard work. You have 
made this a very sucessful year. Special thanks to My good friend
Myrna Ames who watched over me and corrected my spelling
 and did most of my typing for me.
Thank you!
6/5/96
John Potts
 
President:	                John Potts	             Mt. Miguel Adult Center






Grossmont Chapter Site Representatives:



Renee Turchin	                Career Development Center    579-4720
Carla Stoner 	                Corrections Center	     258-7520
Nancy Spring 	                District (Parent Ed)	     579-4770
Liz Helming 	                El Cajon	             579-4735
Alafair Parent   	        Foothills	             579-4795
Peggy Gedman 	                Health Occupations Center    579-4780
June Hollinger 	                Helix	                     579-4790
Donna Ruffin 	                Mt. Miguel	             579-4775
Dixie Hegyi	                Santana	                     579-4785

The state is grouped into sections:
Bay Section
Central Section
Southern Section
Northern Section
South Coast Section
Los Angeles Metro Section
Each section has an elected section board of directors. Consisting of:
President
Vice President
Secretary
Treasurer
and other appointed committee chairs as needed.
Each section is made up of the area districts (chapters) that provide the educational sites for instruction.
The Southern Section consists of the following chapters
AERY Chapter
Grossmont Chapter
PACE Chapter
San Bernardino Chapter
Each chapter has an elected chapter board of directors. Consisting of:
President
Vice President
Secretary
Treasurer
and other appointed committee chairs as needed.
Return to the top of the page